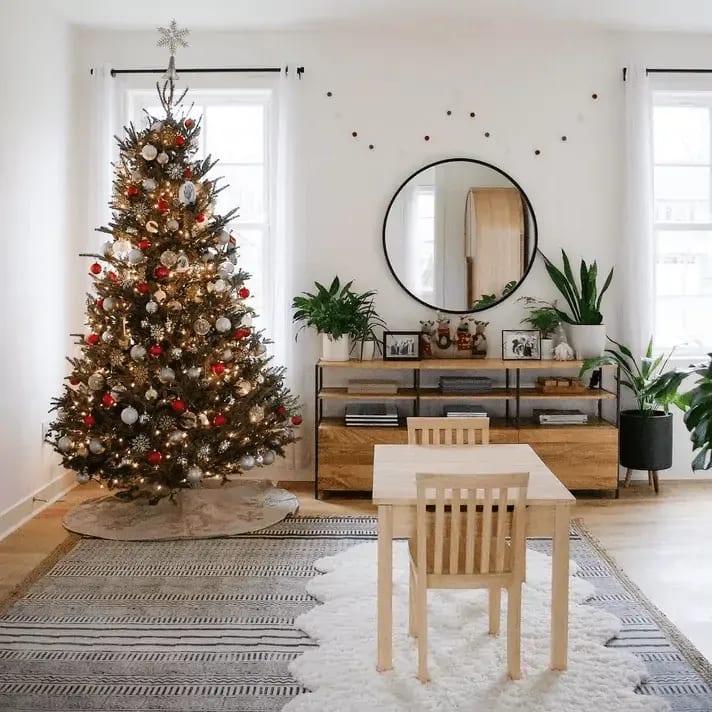 The holidays, as magical as they may be, possess a certain stressful undertone – but holiday decor can spruce things up! An unspoken pressure makes everyone want everything to look perfect, down to the smallest detail.
But the truth is, sometimes it's the simplest holiday decor that looks chic and commands the most attention. We're talking easy linen swaps and mantle makeovers you can do in a snap. Ahead, 18 Christmas and other holiday decor ideas that are simple to recreate and will have you decking the halls in no time—without all the stress.
Holiday Decor #1: DIY Simplistic Wreaths
We love this simplistic take on the traditional Christmas wreath—and it couldn't be simpler to DIY, to boot. If your decorating style leans a bit more minimalistic, these wire wreaths with simple holly branches will fit right into your home's design.
Holiday Decor #2: Let Your Tree Speak for Itself
No need to go over the top in your Christmas tree decorating. If it's a simplistic look you seek, stick to the basics when it comes to adorning your tree. This simple Christmas setup is a perfect source of natural holiday decor inspo.
Holiday Decor #3: Bring Simple Décor to the Kitchen
If your home boasts neutral tones and simplistic vibes, your Christmas décor can fit right in without throwing off your perfectly-curated aesthetic. Add small, simplistic wreaths across your kitchen—an unlikely space to receive Christmas cheer–for a unique but still low-maintenance decorating idea.
Holiday Decor #4: Hang a Delicate Garland
Christmas garland has many forms beyond the lush, bushy evergreen options. What we love about this Christmas setup are the juxtaposition of the lavish, classic tree and the simplistic and delicate pom-pom garland. This is such a cute way to add Christmas cheer.
Holiday Decor #5: Hang a Festive Banner
Whether you're known to procrastinate or just prefer to keep things simple, this decorating staple could be set up minutes before your guests arrive. A glittery holiday banner draped across your mantle instantly ups the Christmas cheer and looks Instagrammable to boot.
Holiday Decor #6: Swap Your Linens
A simple Christmas décor idea? Swap your sheets. Next time you remove your sheets for a laundry refresh, consider storing your everyday linens and swapping them for a more festive set.
Trade your comforter for a plaid quilt and break out the Christmas-themed throw pillows. And the best part is you can apply these simple swaps in every room of your house, from your bedroom to your living room.
Holiday Decor #7: DIY a Table Runner
Whether you gather them from your backyard, a nearby park, or your local farmer's market, clusters of pine needles make for the perfect Christmas décor. We love the idea of lining them up down the middle to create the look of a fresh runner. Add a velvet or silk bow for a festive touch.
Holiday Decor #8: Show Off Your Collection
Whether it's an assortment of vintage Christmas tree ornaments or a collection of bottle brush trees, beautifully displaying your findings is decoration enough. We love how this curation of mini Christmas trees looks displayed in order by color, and the best part is this rainbow take on the holidays must've taken minutes to set up.
Holiday Decor #9: Break Out the Twinkle Lights
Whether you decorate with a porcelain village and mini Christmas trees or you prefer to take the minimal route, nothing says the holidays quite like a single strand of twinkle lights. String them along windowsills, table tops, or your media center for a quick and simple holiday update.
Holiday Decor #10: Make a Citrus Garland
A fresh idea if we've ever seen one, this sliced orange garland adds a sunny twist to traditional Christmas décor—and it's the perfect way to give new life to produce that's close to expiration. Slice an orange or lemon into thin slices and dehydrate them in the oven or let them dry out on a baking rack over several days. Use string or twine to attach them to create a gorgeous garland.
Holiday Decor #11: Fake a White Christmas
Whether you live in a warmer locale or you just feel like bringing the magic of winter indoors, flocking your Christmas tree ups the magic factor in seconds.
Holiday Decor #12: Make a Paper Garland
Sure, you can buy a fresh-cut garland at your local farmer's market or tree lot, but cutting one out of paper brings an element of whimsy to your mantle. Play with different shades of green paper for dimension and top off the look with red pom poms for berries.
Holiday Decor #13: Hang Your Wreath With a Bow
Wreaths are most often suspended from over-the-door wreath hangers or stick-on hooks, but we love how much more festive a big red bow looks. This simple swap brings color and life to your front door—just be sure to use a thick, sturdy ribbon to support your holiday door décor.
Holiday Decor #14: Update Your Plain Ornaments
If you're looking for a way to update last year's plain Christmas ornaments, a handful of paint markers will do the trick. Draw patterns on each orb using plant, dove, and star motifs, or customize them with your name or initials. Finally, swap the metal hook for silk ribbons in various colors.
Holiday Decor #15: Swap Ornaments for Flowers
When it comes to Christmas décor, there's no reason you can't think outside the glass ornament box. Gather items from around your home to make a tree feel truly yours. We love the look of this pastel-colored tree that utilizes faux flowers to bring a springy feel to winter.
Holiday Decor #16: Make Paper Flags Out Of Christmas Music
One of our favorite parts of the holiday season is the echo of cheerful Christmas music in the background. Incorporate your favorite songs into your décor via a flag banner cut from sheet music. Cut the flag shapes out of old music books (or at-home printed versions), and string them together with a strand of twine.
Holiday Decor #17: DIY a Chalkboard Advent Calendar
If you currently have a chalkboard hanging in your home, you have the potential to create a beautiful rustic advent calendar. Decorate it with fresh greenery, twinkle lights, and ribbon for a truly festive feel.