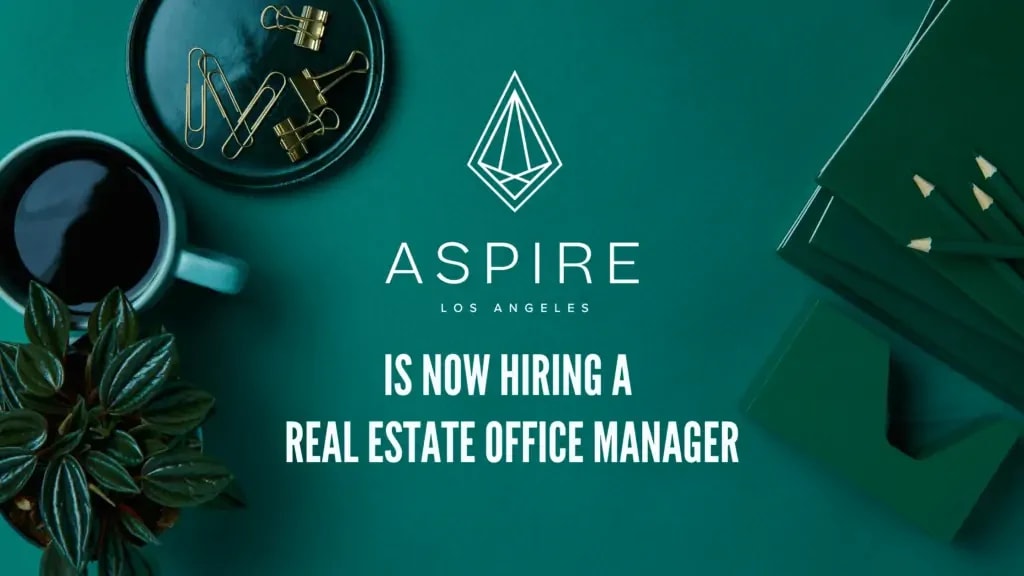 RESPONSIBILITIES:

General office administration includes managing office supplies and vendors, greeting clients and agents, office scheduling, event planning, managing office expenses, and other clerical responsibilities to support the team.

Supporting our real estate transactions such as tracking and reporting of the sales pipeline, maintaining customer data in CRM, assisting with customer-facing listing preparation, submitting offers in our transaction management systems, creating market reports, scheduling showings for team leaders, and searching for real estate inventory.

Acting as the first line of support for Agent questions and providing resolution in a timely manner, onboarding new agents and staff, support with agent training, and being a general resource for the agent team.
COMPANY OVERVIEW:

Aspire Los Angeles is here to make your real estate experience exceptional. Since 2017, we've been fulfilling our clients' unique desires and providing personalized experiences that help them realize their goals.

We have created a collaborative environment for our customers and partner with agents who share our values. We're also passionate about the city's vibrant, distinctive architecture. Timeless properties are our specialty, so if you're dreaming of a stately Victorian, cozy California Craftsman, or a mid-century modern masterpiece, you're in the right place. And, if you're looking to sell, we make sure qualified buyers are just as enchanted with your home as you are.
At Aspire Los Angeles, we aim high, build meaningful relationships, and don't stop until you achieve whatever you can imagine.
For more info on our company, visit:
www.aspirelosangeles.com

JOB OVERVIEW:

In your role as the office manager, you will wear many hats. From general office duties to handling agent training & new agent onboarding, internal sales pipeline tracking, event planning, assisting in listing preparation, streamlining processes & actively thinking of ways to increase productivity in our agents, and supporting the team lead/ broker in her role.

Support Team Leader/ Broker with event planning, growth processes, accountability for the team, calendar management, and other clerical needs as needed.

QUALIFICATIONS:

You are the glue that holds it all together. You are organized, punctual, and a team player. You have great organizational skills, and you enjoy working in a collaborative and fast paced environment. You thrive on making sure things are taken care of. You enjoy the real estate industry and want to further your experience in this field.
CA real estate salesperson license is a bonus! Opportunity to grow within the company for the right candidate.

JOB TITLE: Real Estate Office Manager

HOURS Required: Part-time to possibly full-time, minimum of 20 hrs/ week

POTENTIAL COMPENSATION: $20-$25 per hour (depending on experience level) + quarterly performance bonus

EXPERIENCE LEVEL: 2 yrs of real estate experience preferred

REQUIREMENTS: College degree or equivalent work experience in real estate

HOW TO APPLY:
Please send your resume to
[email protected]
and add to the subject line: Real Estate Office Manager job application – "name of the candidate".